Zaphir Shanti Chime - "Sufi" in the colour "Violet Blue"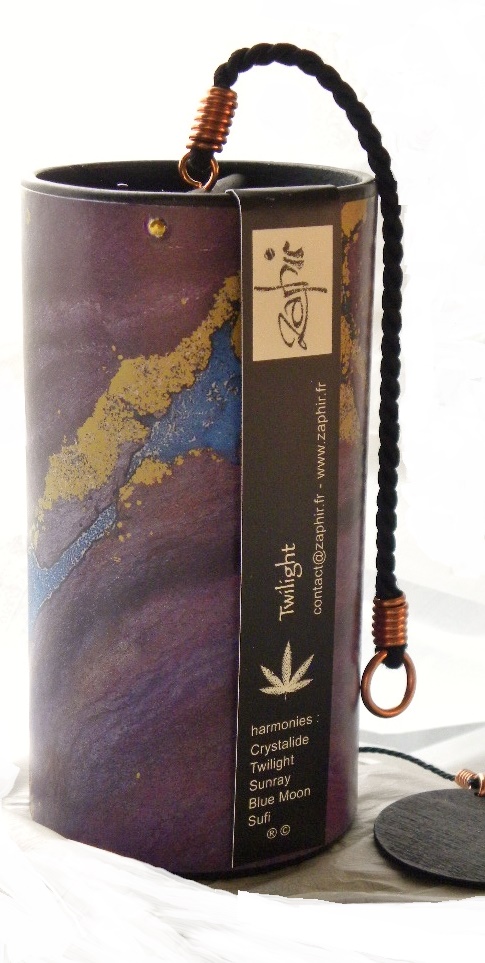 Zaphir Shanti Chime - "Sufi" in the colour "Violet Blue"
A beautiful addition to your home or office. Hang by your kitchen window, above a a child's bed, in your meditation room or yoga studio. Each of the five different Zaphir Shanti Chimes have been carefully crafted in the French Pyrenees to reflect the Feng Shui seasons and elements.
The Sufi chime plays the following cords F A D F A G A D and captures the beauty of the "intermediary season/late Autumn" in Fen Shui. This is the season characterised by the element of metal and the colours of white and grey.
Listen to the Sufi melody here.
The beautiful tones and overtones combine in a relaxing harmony - whether you play the chime by hand (hold by the string and move gently) or leave it hanging in a breezy part of your home.
Made according to ecological principles and for optimal resonance and clear crystalline quality of sound.
Please note: the picture displays the colour of your chosen chime (and not the tuning).
Further information from the producer:
• Width of the chime's cylinder: approx. 6.5 cm
• Length of the chime's cylinder: approx. 12.5 cm
• Total hanging length: approx. 40 cm
• Weight of chime: approx. approx. 130 g
• The proportions of the chime's cylinder coincide with the "Golden Ratio" principles of Leonardo Da Vinci, ensuring optimal sound and resonance.
• The cylinder is made from a natural wood-based material that gives the crystalline sound of the chime its warm timbre.
• Materials: Most materials used are ecological and recyclable . Please note: The wooden parts are wax coated Not a Toy
• Use by children: Not a toy and not recommended for use by children under 4/5 years of age.
• Exterior usage: The interior and exterior of the chime are protected by a layer of eco-varnish and paint, however these will be impacted by negative weather conditions. While designed for interior use, if used outside, then please suspend under cover (an overhanging roof, for example).